Lake Trout Fishing in Milwaukee, WI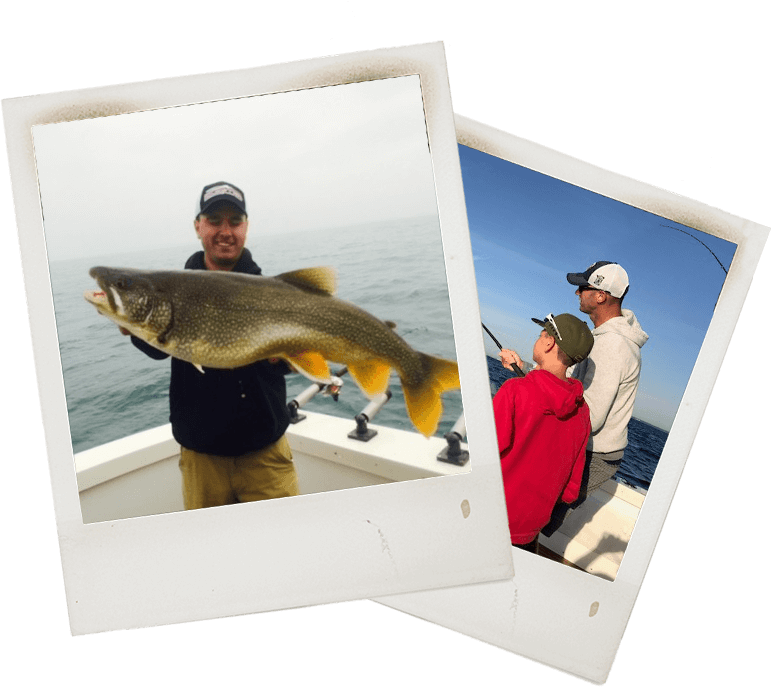 "Most people can only handle catching a couple." – Capt. Craig
Prepare yourself for an extraordinary trout fishing expedition in the stunning waters of Lake Michigan, where adventure awaits! This time, we're setting our sights on the magnificent Lake Trout, a prized catch renowned for its remarkable size and thrilling fights. Captain Craig, our seasoned expert who knows these waters like the back of his hand, will guide you to the most captivating fishing spots, ensuring an unrivaled opportunity to land these prized Lake Trout. While we prioritize the species available during your trip, rest assured that you'll have the best chance to reel in some awe-inspiring trophy Lake Trout. Get ready to create unforgettable memories on this exhilarating journey!
Milwaukee's Lake Michigan is renowned for its abundant population of Lake Trout. These magnificent fish, known for their impressive size and fighting spirit, will put your angling skills to the test. With our expert guidance and state-of-the-art equipment, you'll have the best chance of hooking into these majestic Lake Trout.
Milwaukee Lake Trout Fishing Charter Rates

6 Hour Lake Trout Fishing

$775 for 1 - 6 passengers
The best chance at catching a keeper trout

5 Hour Lake Trout Fishing

$675 for 1 - 6 passengers

2 Hour Harbor/River Cruise

$300 for 1 - 6 passengers
See all Lake Michigan fishing charter rates available from Crabby Charters
Lake Michigan Lake Trout Fishing Regulations
Understanding and respecting fishing regulations is crucial to ensure the sustainability of the Lake Trout fishery. Here are the key regulations you should be aware of:
Trout & Salmon (aggregate)
Min Size Limit: 10" TL
Bag Limit: 5 per person within the aggregate
Harvest Season: Open all year
By following fishing laws, we help to preserve and conserve Lake Trout, guaranteeing a sustainable fishery for future generations. Crabby Charters is dedicated to responsible fishing methods and abides by all fishing regulations.
Remember to bring your legal fishing license as well as any stamps or permits required by local authorities. Pack sunscreen, adequate clothing for various weather conditions, and any food and beverages you intend to consume throughout the journey. Join us on Lake Michigan for an exciting Lake Trout fishing charter.
To book your thrilling Lake Trout fishing charter in Milwaukee, Wisconsin, contact us today!