Rainbow Trout (Steelhead) Fishing in Milwaukee, WI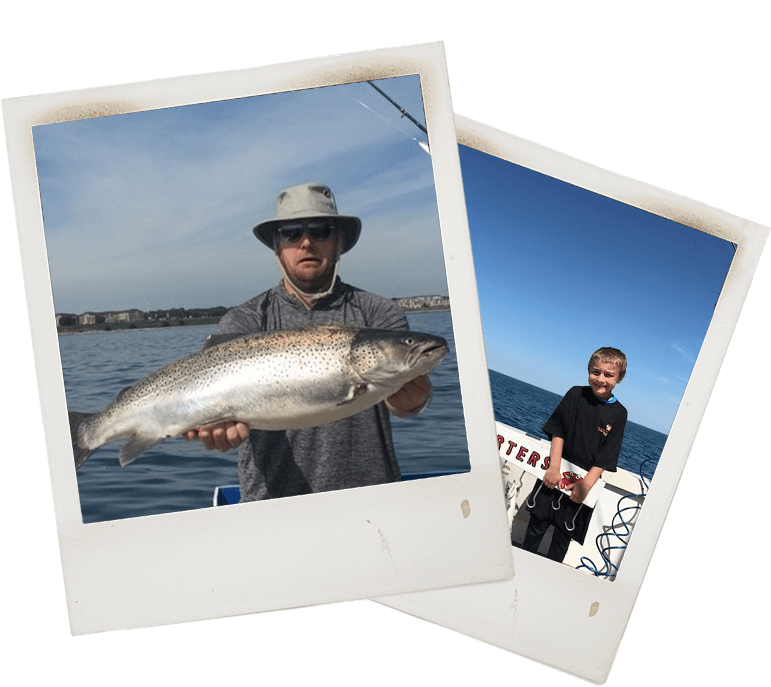 "Rainbow Trout might make you cast, reel, and dance, but in the end, they'll have you hooked on their colorful personalities!" – Capt. Craig
Prepare for an unforgettable trout fishing adventure in the scenic waters of Lake Michigan, where excitement knows no bounds! We're going after the beautiful Rainbow Trout this time, a real gem known for its vibrant colors and aggressive bouts with fishermen. Captain Craig, our seasoned expert who possesses unmatched knowledge of these waters, will lead you to the most captivating fishing spots, guaranteeing an unmatched opportunity to hook these prized Rainbow Trout. While we prioritize the species available during your adventure, rest assured that you'll have the prime opportunity to reel in magnificent trophy Rainbow Trout.
Milwaukee's Lake Michigan is home to an abundant population of Rainbow Trout, also known as Steelhead. These magnificent fish are renowned for their acrobatic jumps, strong runs, and their stunning colors that glisten in the sunlight. With our expert guidance and top-notch equipment, you'll have the ultimate opportunity to hook into these prized game fish.
Milwaukee Rainbow Trout Fishing Charter Rates

6 Hour Rainbow Trout Fishing

$775 for 1 - 6 passengers
The best chance at catching a keeper trout

5 Hour Rainbow Trout Fishing

$675 for 1 - 6 passengers

2 Hour Harbor/River Cruise

$300 for 1 - 6 passengers
See all Lake Michigan fishing charter rates available from Crabby Charters
Lake Michigan Rainbow Trout Fishing Regulations
Understanding the fishing regulations is crucial to ensure the sustainability of the Rainbow Trout fishery. Here are the key regulations you should be aware of:
Trout & Salmon (aggregate)
Min Size Limit: 10" TL
Bag Limit: 5 per person within the aggregate
Harvest Season: Open all year
Adhering to fishing regulations helps preserve the health and sustainability of the Rainbow Trout population, ensuring a thriving fishery for future generations. At Milwaukee Fishing Charters, we prioritize responsible fishing practices and uphold all fishing regulations.
Remember to bring your valid fishing license and any required stamps or permits as mandated by local regulations. Additionally, pack sunscreen, appropriate clothing for changing weather conditions, and any food and drinks you'd like to have during the trip. Join us for an unforgettable Rainbow Trout fishing charter on Lake Michigan.
To book your thrilling Rainbow Trout fishing charter in Milwaukee, Wisconsin, contact us today!